If you haven't checked out our previous post on saving money with cell phones, check it out here. As we mentioned in the post, we are always considering other ways to save money on our cell phones and believe we have found great service at an amazing price!
Do you hate paying outrageous monthly bills? Do you hate paying $80, $100, $120 or more per line per month for cell phone plans that isn't even UNLIMITED?
What if I told you that you can SAFELY cut the cord from Verizon, be on Verizon's network, have a decent smart phone, have reliable service, and get it all for…
$10/line per month?!
SERIOUSLY!!!! (Scroll to the bottom to see how to get a referral credit of up to $25 for signing up for a 30 day plan.)
Disclosure: This post may contain affiliate links meaning I receive a commission if you decide to make a purchase through my links, at no cost to you. Prices listed below are current as of the original writing of the blog post.
In our previous post, I shared with you all about MVNOs and why we love them! All the benefits without the cost. We also discussed how we like the Page Plus Cellular phone service we were using and would consider another option if a similar provider could beat the awesomely low price of $30 per line per month.
As a reminder, our criteria included the following:
Good service
CHEAPER than Verizon
No contracts
Keep (Port-in) the same phone number
Almost all of the MVNO providers worked in larger towns, but move away from those areas and your phone would become nothing more than a paperweight. The only company at that time matching all of my criteria was PagePlus cellular.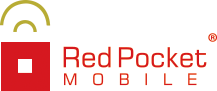 Page Plus…Meet Your Match! Red Pocket is another MVNO company, BUT, they operate on ALL 4 of the big carriers in the US, including Verizon, t-Mobile, AT&T, and Sprint.
They have awesome plans starting as low as $10/month and also include family options, too, for a little higher price. Their highest monthly plan is ONLY $40 and includes unlimited talk/text/data (up to 22gb on GSMA and 12gb on CDMA plans)
We tested the $10/month plan which include 1000 minutes, unlimited text and 1GB of 4G data. Spoiler alert: we liked it so much we ported over from our previous carrier!
If you are willing to pay for a year in advance, you can actually get the same price reduced to $8.25/month!
How crazy awesome is that!?!
Don't believe it is actually that cheap? Check it out here for yourself!
What about Family Plans? Yep, RedPocket has those, too! Family plans include UNLIMITED Minutes/Texts/Data (up to 10gb)
What are Some Pros/Cons?
Pro #1 Coverage. As mentioned earlier, we are using the same network as Verizon! But…you have the option of using ANY of the Big 4!
Pro #2 Cost. For 2 phones through Verizon on their entry level plans, you will be paying $60/line plus taxes, surcharges, and other fees. Compound this for 2 phones over a 2 year contract and you will be paying $2880 BEFORE TAXES AND OTHER FEES! Once you add in the costs of a phone lease and phone insurance then these costs skyrocket!
Through PagePlus we have been paying $29.95/line (taxes and fees already included) and this includes unlimited talk/text and 3gb of data which has proven to be more than enough for our needs. Compound this for 2 phones over a 2 year timeframe (no contracts EVER) and we have spent $1437.60.
And now through Red Pocket…
$10/month = $120/year!
$20/month for 2 lines = $240 per year or $480 for 2 years.
A SAVINGS of $1000 from PagePlus
OR…
$2400 from Verizon!
We understand that this comparison may not be an exact 1:1 comparison between Red Pocket and Verizon. A better comparison would be to look at Red Pocket versus PagePlus. Even then, a savings of $1000 is amazing!
What would you do with an extra $1000 or $2400?
Pro #3 NO CONTRACTs! Not much to say other than I am thankful we are not indebted to a company and can leave anytime we want (if we would want to).
Pro #4 Referral Program Red Pocket has an awesome referral program after you are with the company for at least 30 days. Up to a $25 credit is applied to the referrer and the referee! How amazing is that?! Scroll to the bottom to see the specifics for the referral program.
Hint: you will need this coupon code (700B651AE0A3B1A4) to get the referral credit.
Now for the cons…
Con #1 No Phone Discounts. I don't see this as a con and let me share why
So Verizon likes to offer phone deals if you sign up by a specific date, or if you change your contract dates, or if you sell your right leg. I like my right leg, but could probably do without my appendix (already removed anyways). Those phone "discounts" aren't real discounts at all and may cost you longer. Not to mention the "insurance" those companies sell you for using phones that they don't own anyway. It's like a car lease (a bad idea) in which the salesman makes commission by selling you all of the add-ons he has convinced you that you NEED.
Con #2 You must buy your own phone. Again, I don't see this as a con, but it may be something you feel is a downside to moving away from the Big 4.
You must purchase your own phone (make sure it is a Verizon unlocked phone) and can choose to purchase one through PagePlus here or you can BYOP (Bring Your Own Phone) by purchasing from a third party vendor like Amazon.
Con #3 You don't get unlimited everything. I don't see this as a con, per se, and again you may. Do I really NEED unlimited everything? I was surprised how little data we truly used when outside of a wifi connection. You can find out how much data you use by looking at your online dashboard or checking your carriers app. Here is an excellent blog post about helping you determine if you need unlimited data.
And for the conclusion…
Overall, we did enjoy the perks of the Verizon service and don't want you to feel like Verizon is a horrible service. It is not. We do agree that for some people the Big 4 carriers provide good services and each person must weigh the pros and cons for themselves before determining if they should consider saving more money by switching to an MVNO like Red Pocket. There are many MVNOs available on each of the Big 4 networks and some may be better in your area than others.
We have been so excited with Red Pocket that we have ported our numbers from Page Plus! That's a pretty big move for having been with the previous carrier for the past 8 years!
So…have you tried an MVNO and if so, what have been your experiences?
Remember, we are passionate to help you in "Saving Money to Make Memories."
RedPocket Referral Program
Rules for Recipients
If a referral code is provided to you (here it is: 700B651AE0A3B1A4), use the code to purchase a SIM card and plan* from redpocket.com/plans. You can also use the referral code with an iPhone purchase on select plans* at redpocket.com/shop.
You will receive $25 off your first month of service for any plan that is $30 or more. Looking for a smaller plan? You will receive $7.50 off your first month of service for any plan below $30.
Once you complete your plan and SIM card order, you must activate the SIM card at redpocket.com/activate within 30 days, and perform a minimum of one monthly plan renewal, (renewals occur 30 days after the initial activation) in order for the referrer to earn their credit.
Hint: you will need this coupon code (700B651AE0A3B1A4) to get the referral credit.